I'm splitting this off from Amin's thread where he wishes to generate RF signals because I'm interested in avoiding generating RF signals with the hope of someday obtaining the required FCC id. Perhaps somebody else will find this useful too.
I'm not yet going to try for the Euro standards where you shoot it with a tesla to see if it still works.
[img]http://www.barefootelectronics.c...(1).png[/img]
A general idea seems to be to keep high frequency signals from traveling on long traces. A high frequency current radiates RF energy.
So the general advice is:
1. Keep your oscillator close to the processor so the high frequency lines are short. Very helpful to use the internal osc if you can.
2. Bypass caps as close as you can manage to EACH power supply pin. Newer chips have + and - pins right together to make this easier.
3. Ground plane everywhere you can put it on both sides. If needed, the + can serve as a ground plane.
4. Add a little inductance to the power plane to keep the high frequency noise from getting past the capacitor onto the rest of the board.
5. Add lots of inductance to power cords to keep high frequency noise off the external wires.
6. Add caps to any IO lines going off the board to reduce high frequencies on these lines.
7. 4 layer boards help A LOT.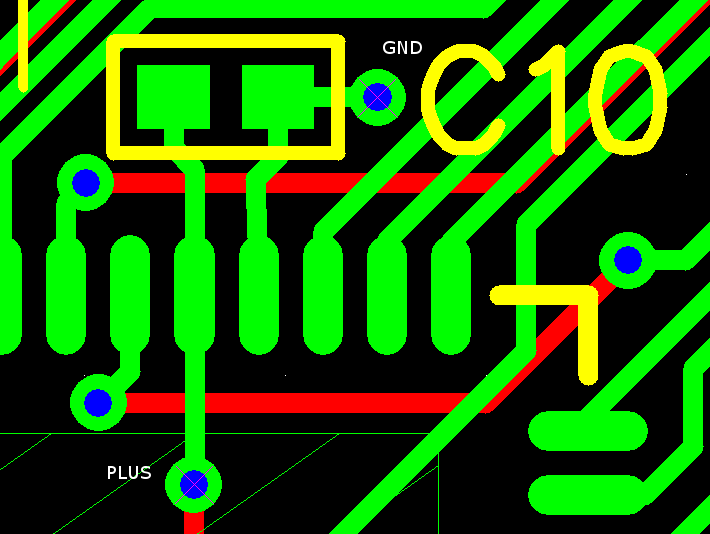 So here is a bypass cap on a 2 sided board. The bottom is ground plane. I think this is a pretty good design, but could be improved. The features are:
a) The capacitor is close to the part.
b) The capacitor is between the part and the ground plane so the RF current tends to flow through the cap, not to the ground plane.
And improvement would be to move the plus connection to the capacitor instead of the IC pin. Also, I could put a ferrite bead in the path from the capacitor PLUS line to provide some impedance between the capacitor/chip to the rest of the + distribution. How about one in the ground line?
I have an article by Earl McCune, Consultant, and David Wyskiel, Wyskiel Technologies in a PDF, but annoyingly, search engines don't want to give you a link to the pdf so you can reference it. If you copy/paste the whole string of names from Earl to Technologies into google, it comes at the top of the list.
Here is the whole board design for you to ridicule.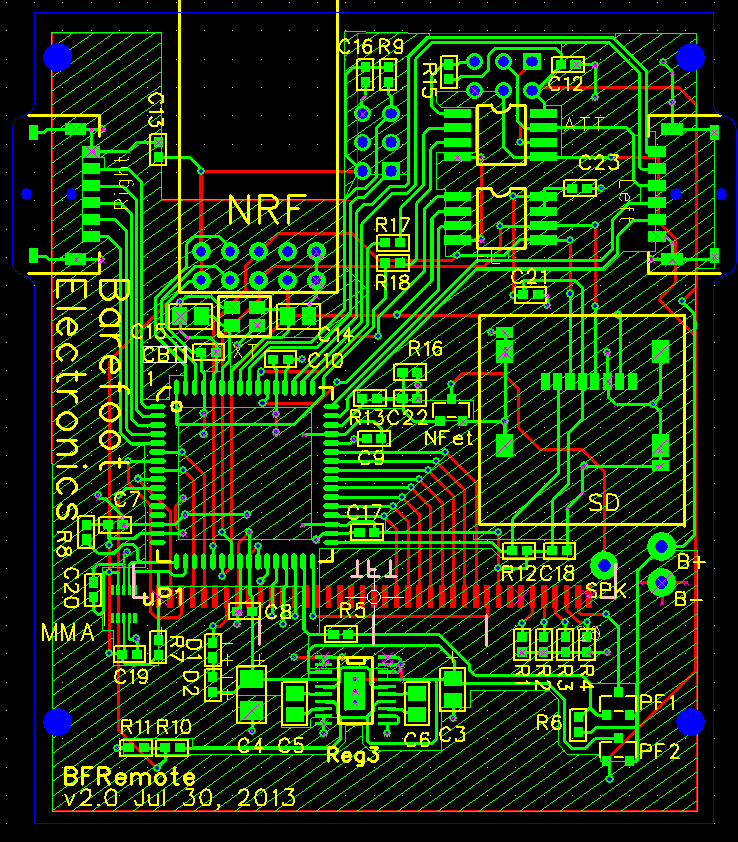 I already see that I should move C12 to be next to the supply pin 8 instead of on the other side if the ISP connector.