Can anyone point me to a typical discharge curve for a AA alkaline battery with a 5mA discharge rate? A quick Google search only uncovered curves down to 50mA; all others are at higher rates.
Background: An upcoming app will drive a small fan periodically. The drain of the fan is ~4mA so with AVR etc. it is about 5mA. The aim is to drive the fan at the same speed even when the battery is draining down. Driving the fan with bench supply or fresh battery indicates an effective PWM duty cycle of ~50% to drive the fan at desired speed.
If the curve is very flat until near "dead" then there is no need to fuss with the duty cycle. But if it drops 25% or more I might want to bump up the duty cycle a bit to try to achieve the desired speed.
A "typical" curve I've found: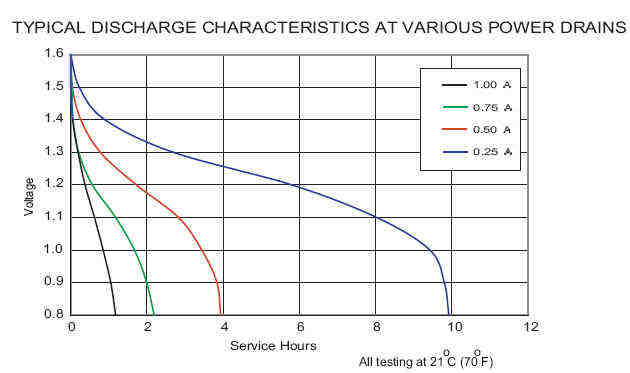 for Duracell "Ultra"; a 50mA test
Now, what does it look like at 5mA?