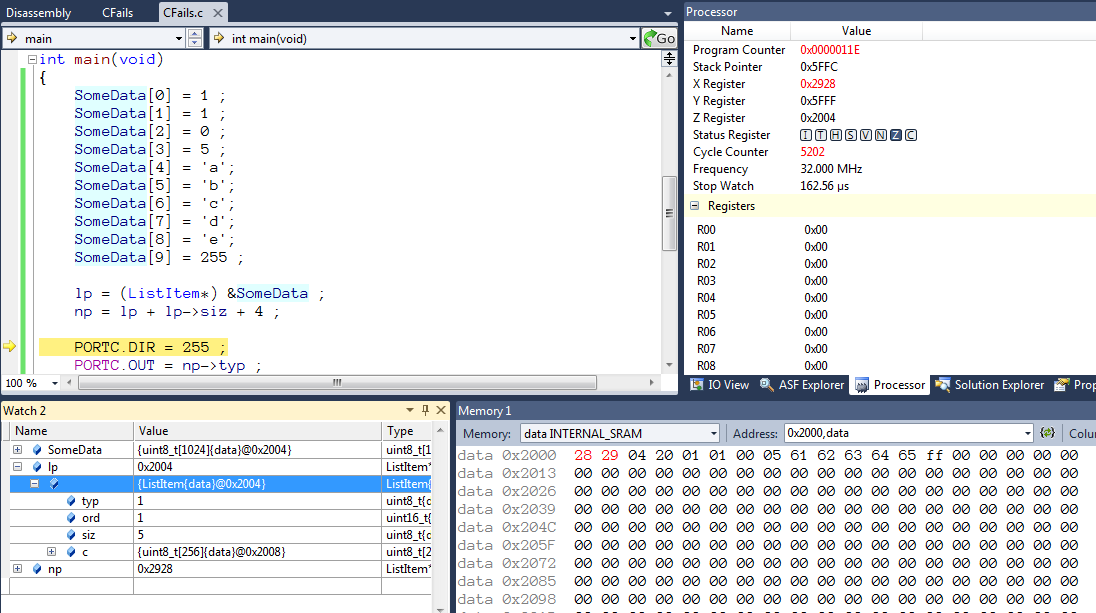 Ignoring the utter uselessness of this program, follow the logic with me:
I have SomeData in memory, and set the bytes to some meaningless values. I have also built a struct and two pointers, lp and np, that are pointers to this struct.
See that the linker has placed SomeData at location 0x2004 in memory.
I set lp to the address of SomeData, and you see it is 0x2004. The data that lp points to, we can see lp->typ is 1 lp->ord is 1, and lp->siz is 5. Very nice.
Now, lets try some pointer math, and point np to the byte after the "e". I'll add the 5 to lp, then 4, and np should then be 0x200d, and np->typ should be 255.
Why is np 0x2928? Am I adding 9 to something pointed to by lp, and not lp itself?
Oops, you can't see the struct in the print screen. Here is the whole useless and incorrect program:

#include 

typedef struct ListItem
{
	uint8_t typ ;		// Type of item
	uint16_t ord ;	// Ordinal of item
	uint8_t siz ;		// Size of item
	uint8_t c[256];	// Contents of item
}ListItem;

uint8_t SomeData[1024];
ListItem * lp ;
ListItem * np ;

int main(void)
{
	SomeData[0] = 1 ;
	SomeData[1] = 1 ;
	SomeData[2] = 0 ;
	SomeData[3] = 5 ;
	SomeData[4] = 'a';
	SomeData[5] = 'b';
	SomeData[6] = 'c';
	SomeData[7] = 'd';
	SomeData[8] = 'e';
	SomeData[9] = 255 ;
	
	lp = (ListItem*) &SomeData ;
	np = lp + lp->siz + 4 ;
	
	PORTC.DIR = 255 ;
	PORTC.OUT = np->typ ;
	
	 
	
    while(1)
    {
        //TODO:: Please write your application code 
    }
}